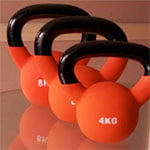 The Litton Lane Kettlebells course is designed to provide qualified health fitness instructors and personal trainers with the skills and expertise to enable them to prescribe safe, effective and appropriate training methods utilising Kettlebells suitable for group training or on a one to one basis.
Course takes place in the DCU Sports Complex and in Galway Hibernians Soccer Club. This is a 2 day workshop taking place over weekend.
Contact Litton Lane for further information.
[raw][php]if(function_exists('generateEnqForm')) generateEnqForm(506, 6903, ", "); [/php][/raw]
Click Here to view more information about Litton Lane Training